Hello guys, just as usual, I offer you here the download links to my pictures and the videos

oemmelchen
has taken during the shows in Utrecht, Bochum and Berlin. I figure that this year, the pictures aren't that awesome but still usable. Pictures as much as the vids are not resized or edited. So if you know how to use Photoshop or Pinnacle or so, you can do a lot with those.
PS: The MegaUpload links are up as well now, thanks to my dear

fonulyn without who I would have never been able to upload them.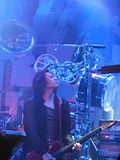 ( Read more... )
( Read more... )